Jeordano Martinez – Music Director
For almost thirty years, Jeordano Martínez, the highly acclaimed director of the Naperville Chorus, has brought his extraordinary talent, boundless energy, and a true love of the major choral and orchestral repertoire to the audiences of Naperville and DuPage County. His reputation for excellence in choral music has been noted in concerts throughout the United States and Europe, where he has conducted concerts in Poland, Austria, Spain, Portugal, Ireland and the Czech Republic. Under his leadership the Chorus has more than doubled in membership and has made guest appearances with the Elgin Symphony Orchestra, DuPage Symphony Orchestra, Downers Grove Choral Society, East Meets West Orchestra, the Chcago Bar Association Symphony Orchestra and Chorus, and the Naperville Municipal Band.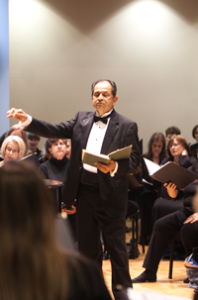 A graduate of Baylor University and Southern Illinois University, Martínez studied orchestral conducting with Irwin Hoffmann and James Dixon, choral conducting with Donald Moses and Margaret Hillis, and operatic direction with the Metropolitan Opera star Marjorie Lawrence. He is a Professor of Music, Emeritus, from North Central College where he has been honored twice with the Dissinger Award for outstanding teaching, in 1992 and 2002. His was the director of North Central's Concert and Chamber choirs prior to retirement. He is a former musical director of the Hinsdale Opera Chorus, Elgin Youth Orchestra, Elgin Summer Music Theater, Miss Illinois State Pageant, and the Liberty-Fremont Concert Society. He has also served as conductor and adjudicator throughout the Midwest and also in Canada and Costa Rica. Presently he is retired from North Central, however is still involved in the summer light opera programs held at the college.
Jeordano Martinez can be contacted by e-mail at MusicDirector@NapervilleChorus.org.